Our Second Term Has Begun!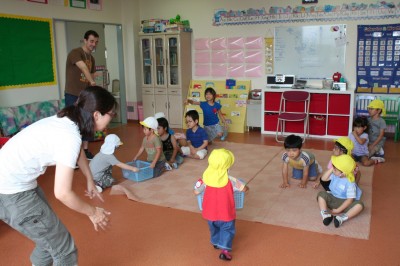 今週から2学期がスタートしました。今学期も運動会、ハロウィーン、芋掘り& BBQ、クリスマスパーティーなど楽しいイベントが盛りだくさん!わくわく、どきどき体験たくさんしたいと思います。
先日は、相当強烈な風雨が続きましたが、皆様ご無事でしたでしょうか?
スクールでは台風のため電話が不通になっていましたが本日より復旧致しました。ご迷惑おかけいたしました。
Apple Bee's second term began this week. This term we have many events planned like Sports Day, Halloween, potato digging, a BBQ, and our Christmas party! Let's have fun together!
We just had a nasty typhoon, but we all got through it safely. The typhoon cut off our telephone line and it was only repaired only today. We hope this didn't cause anyone too much trouble.