Summer School Week 3: Fairy Tales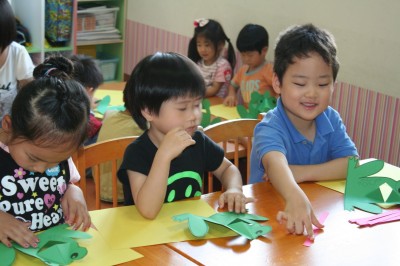 サマースクール3週目のテーマは『フェアリーテイル(おとぎ話)』。いろんなお話の中に、どんな登場人物がいるのかな?何をするのかな?わくわくドキドキ!今日は先生が『Little Green Frog』のお話をしたあとに歌を歌って、工作でアオガエルを作りました。
This week at Apple Bee summer school we are studying fairy tales. What kind of characters are there? What do they do?
Today our teacher read us the story, "The Little Green Frog". We played a 'Hungry Frog' game and made a our own little green frogs.