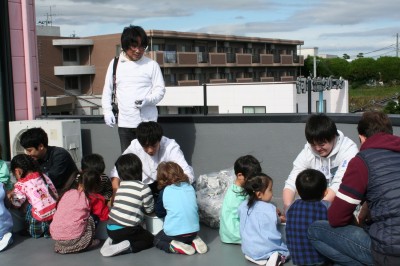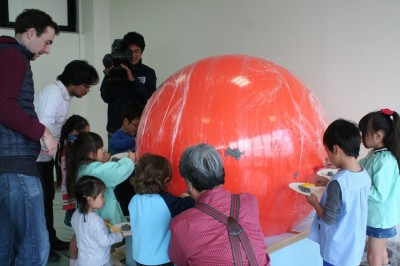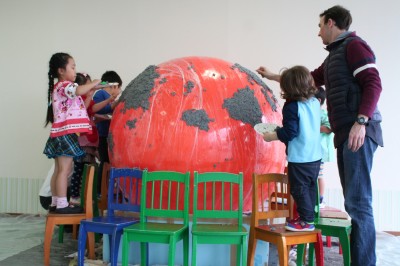 今日、崇城大学の先生、学生さん、そして建設設備研究所の戸塚さんがいらして、スモールドームプロジェクトが開始されました。
はじめ新聞紙を小さくちぎってボンドで混ぜ、それをボールに貼り付ける作業を一緒にしました。みじかな材料を使ってそれが変化していく様子に子どもたちは興味津々!大学生のみなさんと楽しく活動していました。
その時の様子が、今日のTKUテレビ熊本 16:50 ~ 17:00 18:50 ~ 19:00の間に放送される予定です。
This morning a Sojo University professor, his students and Mr. Tosuka came to Apple Bee to start their "Small Dome Project 2015″.
First we tore up newspaper and mixed it with water and glue. When it was ready we used spoons to spread the mixture over "Mr. Orange", the big orange ball that will give the dome its shape.
A TKU camera crew was here to document the project. You can see it tonight from 16:50 – 17:00 and again from 18:50 – 19:00 on TKU. Please take the time to watch!